Tracy Arm Fjord, Before You Fish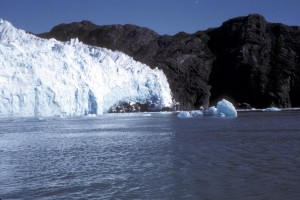 The Tracy Arm Fjord is another of the very popular tourist sites in Alaska.
A fjord is a long narrow deep channel of water that has been cut out of the surrounding rock. Fjords usually have high rocks cliffs that tower over them. In the case of the Tracy Arm, there are granite walls about 3000 feet high that line the narrow passage. The Tracy Arm Fjord is located roughly 45 miles south of Juneau, Alaska.  It is approximately 35 miles long. It has become a very popular destination and is accessible by boat or by float plane.
Many of the cruise ships and lots of the smaller day-trip boat operators frequently pass through the fjord. Its shorelines are dotted with frequent waterfalls caused by melting snow high up in the hills. Trees grow from the rocky walls at odd angles. Wildlife is also plentiful along the passage.
At the end of the fjord are the twin Sawyer Glaciers. While they are not the most famous or the biggest of Alaska's glaciers, many people say that they are the most dramatic. They are framed by large mountains on either side and are often covered in a mist that amplifies and accentuates the deep translucent blue color of the ice. They really are an impressive sight. These glaciers are famous for the enormous slabs that calve off from their faces. The fjord is literally full of the remains of this glacial calving, with icebergs the size of large apartment buildings being commonplace. The entire length of the Fjord will be full of small pieces of floating ice.
I realize that that this is not an Alaskan fishing topic but for many people, their trip to Alaska may be a one-time thing. I always thought that my first trip would be that way. Little did I know just how captivating Alaska would be. I have been able to see and experience many beautiful and wonderful sights in Alaska and I wish to offer others the insight that I have gained in order to make their trip a little more pleasant and enjoyable.
If you have the time, there are many side trips that will fit well with a fishing trip to Alaska. They will give you a better view and a wider experience as you visit Alaska from faraway places. The Tracy Arm Fjord is one such place. It is well worth the time to work it into your fishing trip agenda.