Fishing Alaska: Guided Versus Self-Guided part 1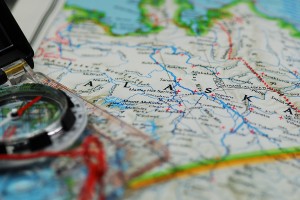 This is part one of a two part post. To access part 2, CLICK HERE.
One of the most important decisions that must be made when planning a fishing trip to Alaska is the choice of guided trip versus self-guided trip.
With a self-guided trip, basically you will get a boat, fishing gear, and hopefully some good advice to get you started. On the other side, the guided trip will have a guide there to advise and assist throughout the day. Both options have pros and cons.
First, let's talk guided trip. Some of the pros are:
 The guide drives the boat and chooses the spot. This may be good because a good guide is out regularly and knows where to find the fish.
 He/she will know the location, the bait, the depths, etc. that have been working well recently. The guide will handle the fishing equipment and sometimes even bait your hooks for you.
 A good guide will know his equipment and will have it in good operating condition and will be able to handle any malfunctions/breakdowns that may come up either with the poles, reels, etc. or with the boat.
 A guide will assist in landing and taking care of the fish. Some experience and expertise can be helpful in this area.
On the other side of the equation some of the cons are:
 Most guides work on a preset schedule. You will fish for a certain time frame and then the trip is over. For most guides, this will be a 4-6-8 hour day. If you limit on halibut in an hour, in some cases, you may head back to dock and be done for the day. You definitely won't have the option to start early or stay later to get "just one more" or the "last one" or whatever the case may be.
 The guide is the boss. What he says goes as far as location, presentation, fishing tactics, bait, etc.
 You don't have the freedom to do as you please. Maybe the halibut just aren't biting today. A guided trip may not give you the option to switch to salmon or another species of fish to try to salvage the day.
Guides are definitely a good option. They are in the fishing business and they want you to return. They will do all that they can to keep you happy in most cases. At times their experience can be invaluable, especially if the weather or the fish aren't being cooperative. While most of my Alaskan experience is with self-guided trips, I can see times where I would have found a guide a handy guy to have around. However, I once went salmon fishing (in Oregon) with a guide where we limited on salmon in an about hour and he was finished for the day. I ended up spending a lot of money for a couple of hours on the water.
to be continued