Processing Your Fish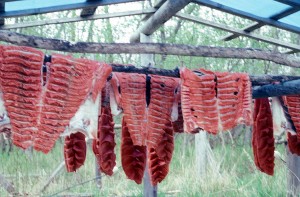 One of the necessary tasks that come with any successful fishing trip is the processing of the fish. The fish must be cleaned, filleted, and preserved.
How this happens varies GREATLY from lodge to lodge. Be sure that when you book a fishing trip, that you know, understand, and agree with the procedure to be followed on your trip. Ask if you don't know their standard procedure. If you fish with a guide, they may gut each fish as it is caught, or they may go into the fish bin as is to wait for the return to dock. At the dock, you may be handed your fish with a "see ya later," or the guide may unload them and go to work on them, or there may be arrangements made with a 3rd party service to take care of them for you. All of this could be included in the price that you paid for the trip, or it may all be additional cost that you will have to pay.
Also to be decided is how and what you want to have done with your fish… fillets, steaks, or maybe even smoked. Do you want them fresh, frozen, or possibly canned? I have fished in a couple of places where your fresh fish could be traded for an "equal" amount of already canned fish. How do you prefer to cook and eat your fish? What is the easiest and most convenient way for you to handle the end product? Most of your preferences can be accommodated with some planning and arranging.
Also, you need to know if your guide service or even your motel has a cooler or freezer for your fish until it is time to go home. Many do but you need to know ahead of time what the plans and expectations are.
I wish that I could just say "Do this" or "Do that," but there are just too many different circumstances and conditions in Alaska.  Some places are close to town and services and some guides are in their own world, far from anything. The best policy is just to ask. Don't just sign up and assume that things will all be OK. They may be OK in the end but you will have greater peace of mind if you know ahead of time just what is expected. The guides forget that you are new to this and that you don't already know all of the answers.
When it comes time to travel home, will you take the fish along as checked baggage, or will you have them shipped? Again, these may both be options depending on your  preferences.
Personally, in Alaska, I have always fished with a lodge that handles the fish for me. They unload the fish from the boat, fillet them while I watch (if I choose to), then they package them in vacuum bags and freeze them. My fish will go into a basket in their freezer with my name on it where they will stay until I am ready to go home. The lodge will then pack them in a travel box up to the 50 lb. airline limit. When I leave, the boxes accompany me to the airport where I will check them as checked baggage. All of this is done at no extra charge to me above the original cost of my lodge booking. The only extra charge that I pay is to Alaska Airlines for the additional baggage (currently $2 per pound but may change anytime).
There are many options and possibilities. My purpose in this article is to make you aware of what is possible and which questions you will need to ask when booking your trip.
I wish the best of luck to you and I hope that you need your own plane to haul all of your catch.