Northern Pike Cause Havok in Alaska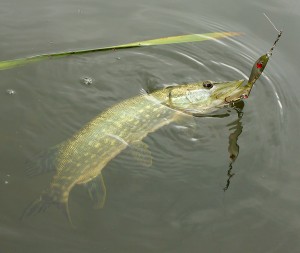 Today's post comes from some information that just recently passed across my desk. It has to do with an undesirable species of fish that is currently running rampant in Alaskan waters. The species of which I speak is the northern pike. Pike are top-level predators in aquatic food chains and are highly piscivorous (fish eating).
Northern pike are a native species in a big part of Alaska but they never existed in South Central and South Eastern Alaska until they were illegally introduced into these waters around 50 years ago.  They have adapted very well and by 2010, they have been found in almost 100 different lakes and in over 30 different rivers and streams. They are decimating the native trout and salmon populations in these areas.
In the parts of Alaska that historically had the native northern pike, there are many species of fish and these species are more adapted to living with and being preyed on by the northern pike while in the new areas, trout and salmon are the main species found and they are being wiped out by the pike. The Alaska Fish and Game website goes so far as to say that the pike have totally wiped out the trout and salmon in some of these waters.
In 2010, Alaska declared war on these out of area pike by removing bag limits on them, adding new catch methods including spearing and bowfishing, and by creating public awareness about them. They have created brochures such as the one linked below and even have created a 34 minute video outlining catch methods and locations where pike may be found in abundance in South Central Alaska. They sell this video for $10 at Fish and Game offices in Anchorage, Palmer, Soldotna, and Homer.
Currently there are few options for getting rid of pike once they have invaded an area. The methods available are public fishing and  netting. Netting is not an extremely effective method of control because the areas that pike prefer are the shallow weedy type areas that are hard to net. These two methods combined help to keep the numbers of pike low enough that the trout and salmon have a chance to compete.
The only other methods of control are to completely drain a lake which is almost never a possibility, or to use a chemical called rotenone which kills ALL fish in the water treated with it. This also is not a preferable option although it is used at times as a last resort.
All transport of live fish from one area to another has been outlawed in Alaska, including the use and possession of live minnows in all fresh water fishing.  Herring and other non-sport fish may still be used as bait in salt-water fishing in the same water in which it was caught.
Use the links below for more information on these topics.