Northern Lights in Alaska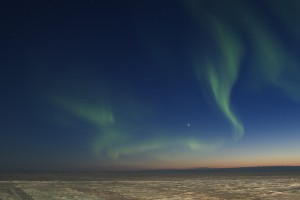 One of the extremely cool things that you could experience while fishing in Alaska is the aurae borealis or northern lights.
The northern lights are an extreme wonder to those of us that don't live in a northern latitude and haven't seen them before. Just imagine the entire sky full of  vertical streamers of bright greens, blues, and/or reds.
The northern lights are caused by the reaction of certain electrical charges that come from solar winds reacting with the Earth's outermost atmosphere.  This energy combines with the presence of oxygen or nitrogen in the air to form the different colors.
The northern lights are invisible in the daytime. With Alaska's constant daylight in the summertime, this treat is reserved for the early spring and fall time visitors. The best viewing months are from late August through early April and the best times of day are usually from 11 pm until 2 am.
There are ways of predicting the solar winds and thus, northern lights, but they aren't extremely accurate. Mostly the northern lights come as a surprise treat for the avid fisherman who spends a little time…fishing in Alaska. 😀