Fishing in the Land of the Midnight Sun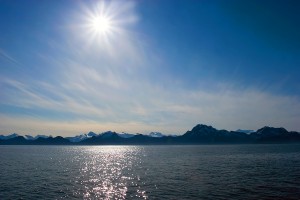 I have written over and over about Alaska's beauty and about her natural resources and about her bounteous fishing. Today I will mention another thing that could come as a surprise to some visitors. Alaska is sometimes called the "Land of the Midnight Sun."
Due to Alaska's far north location, the sun acts differently than it does for the rest of us in the US. Alaska is so far north that when the sun moves South during the winter time, it ceases to shine in Alaska for a few weeks. On the sun's return trip north, it does the opposite. It shines all of the time. While the night time does darken some and the sun does disappear over the horizon, it never does completely get dark. As we all know, June 21 is the longest day of the year. So, for a few weeks on either side of this date, there is essentially no darkness.
This is just one more thing that could take the average newbie fisherman to Alaska by surprise but it could be a great advantage to the fisherman in Alaska on a limited time trip. It theoretically makes it possible to fish 24/7 for a few weeks during what is already some of the best fishing time of the year. 😀
I had heard the term but didn't associate the meaning until I experienced it for the first time. When I spent my first night out in a boat in Alaska, I was pleasantly surprised that, while it got darker, it never got dark enough to hamper seeing my fishing lines or to interfere with driving the boat even at midnight and the wee hours of the morning.
To me, this is just another bonus that helps make Alaska the fishing capitol of the world.