Just How Big is a Humpback Whale?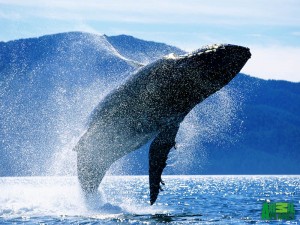 Just how big is a humpbacked whale. The answer is… a LOT bigger than the boats you will be fishing in! Whales are one of the most impressive side shows that one can imagine seeing while fishing in Alaska. At 40 to 50 feet long and weighing in at up to 40 tons, they are just plain impressive. There is no other way to describe them.
I remember my first day fishing the Inside Passage of Alaska. We were doing a self-guided trip. They put us in an 18 foot boat and sent us out to fish. One of the guys with us had been there for a week prior to my arrival. He knew where all of the halibut were being caught the week before. We headed out bright and early Monday morning.  On arrival in the area where we were to fish, we used our gps to move in to the right spot and drop anchor. We dropped our lines and waited. And waited. And waited some more. There were a few small hits and a couple of small fish but nothing impressive.
Finally, one of the guys decided that we needed fresh herring instead of the frozen stuff that we were using. He pulled out a herring rig and set it up on his pole. "How do we find herring?" we asked. He pointed out the seagulls dive-bombing the water a half a mile or so away. We pulled anchor and motored over.
As we approached the area, the surface of the water was literally hopping with herring. It looked like being in the middle of a rainstorm with raindrops splashing everywhere. Actually, it was the herring popping up everywhere. We saw that not only were the birds feeding on the herring, but so were the whales. They would come up, breech, and then go under again. This school of herring was a large one, covering an area the size of a couple of football fields. Plenty of room for everyone to catch herring…birds, whales, and us.
We dropped our herring rigs and began to fill our bait bucket rather quickly. We were just minding our own business when a great big humpback came straight up out of the water within 15 feet of our boat. He shot straight up out of the water and then flopped over on his side. WOW! I think that our hearts stopped. Suddenly, several others joined him. We watched in awe as they moved in and out around us, feeding on the herring, oblivious to us. Many, many times, we could reach out with our fishing poles and touch them as they glided by. What an awesome experience. After a while, we started our motor and chugged back to our anchoring spot and began to fish for halibut (with much better success I might add).
Many times I have been anchored over a halibut hump, fishing away, only to have a whale make a beeline for me. Just when I would think that the collision is inevitable, the whale will dive only to pop back up a few feet on the other side of the boat. All of our lines dropping straight down under the boat remaining un-touched.
If you have never heard the song of the humpback whale, be ready for the shivers that it will send down your spine. One will hear them all day long. A scan of the horizon can show little groups of whales all around.
There truly is no other place on earth to fish that equals Alaska.