Homemade Tartar Sauce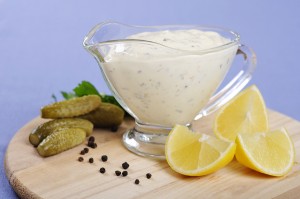 This tartar sauce is another favorite at our house. We have been making it for many years. It is great with any kind of fish including our Battered Alaskan Halibut fish and chips and grilled Alaskan salmon or trout.
Homemade Tartar Sauce
1/2 cup mayo or Miracle Whip
3 Tablespoons chopped pickle relish
1 Tablespoon chopped parsley
2 teaspoons lemon juice
1 teaspoon finely grated onion
Put all ingredients except mayo in blender and blend. Stir into mayo. Store leftovers in refrigerator.
* Serve with halibut, salmon, trout, cod, etc that has been fried, baked, grilled, or whatever!