Breaded Baked Halibut Recipe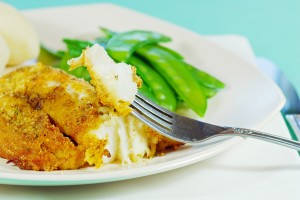 This recipe is another one that is always welcomed here at our house. It works great with halibut, cod, lingcod, rockfish, sheefish, or just about any other white-meated fish fillets. It prepares and cooks very quickly and easily for those times when dinner is "in a hurry."
Prep Time: 10 min
Cook Time: 10 min
Serves: 4-8
Ingredients:
2-4 fish fillets cut in 1 1/2 inch squares or strips (halibut, cod, sheefish, rockfish, etc.)
1 cup grated parmesan cheese
1 cup bread crumbs, plain or Italian flavored
1/2 cup olive oil OR  melted butter
1-2 teaspoons sliced or minced garlic
Directions:
Put oil, parmesan, and bread crumbs in three separate bowls. Add garlic to oil bowl. Dip each piece if fish in oil, parmesan, and bread crumbs in that order. Place breaded fish on a baking sheet so that they don't touch each other. Sprinkle with fresh ground pepper if desired. Bake for 10-15 minutes at 450F until golden brown. Do not overcook. Fish is done when is breaks easily and is firm and white through.
Serve with Homemade Tartar Sauce, lemon juice or wedges, malt vinegar, or your own favorite dip or topping.
*The purpose of the garlic is to give the oil or butter a garlicky flavor. Personally we use Garlic-Infused Canola Oil from our local Pampered Chef  lady and it tastes great!
Great eating,