Halibut Bycatch Explained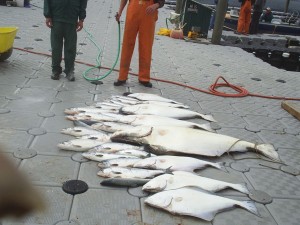 There has been a lot in the news lately about Halibut bycatch. I thought I would take a few minutes today to explain what that is.
The vast majority of the fish caught in Alaska, or in the world for that matter, are caught by commercial fishermen. These are the guys who are out there catching and then selling fish to make their living. They catch their fish in many different ways. One of these methods of fishing is called trawling in which giant nets are drug along the ocean floor are essentially scooping up everything in their path. When the nets are brought in and the fish are brought onto the boat they then must be sorted. The boat is only allowed to keep the species it was targeting, normally pollock and  cod.  All halibut caught must be thrown back into the ocean even though many of these fish are already dead or won't survive when they are thrown back. These extra fish are called bycatch.
By law these fish cannot be kept because they are out of season and over limit to the boats that catch them. Once a certain number of pounds of halibut have been caught, the season ends for the trawlers. This number has been 50 million lbs. since 1989 and is a cumulative total for all trawlers fishing in Alaskan waters.
The North Pacific Fishery Management Council oversees the bycatch and set the numbers. This number was recently cut for the first time in over 20 years.
Pacific halibut numbers have been declining for the last several years. Limits to sportfishermen and to commercial fishermen who target halibut have been reduced, in some cases by over 50%, over the past few years. In many parts of Alaska we as sportfishermen who fish with a guide can only catch one halibut where just a few years ago we could catch two. During this same time the commercial fishermen who target halibut have had their limits reduced by up to 68%.
The trawlers have not had a bycatch reduction since 1989. This new reduction will cut 15% off of the 50 million lbs. limit. If my math is correct that amounts to a 7.5 million lbs. decrease in halibut taken as bycatch. This 7.5 million lbs. is far more halibut than the total caught by ALL sportfishermen in Alaska each year.
With the new quota in place, once the trawlers reach 42.5 million lbs. their fishing season will end. This new quota will phase in gradually over the next four years.
I believe that to maintain and even to improve the quality of halibut fishing, as we must do for future generations, we must all do our part. I feel the pain of the men and women who make a living from the fish that they catch. I know that earning a living can be a difficult endeavor and that we need all of the breaks that we can get.
I also know that we must all work together and do our part in preserving and helping good old Mother Nature to save her own.