Flying to Alaska
So, you are serious about this Alaskan fishing trip, huh? If so, lets take a few minutes to get acquainted with traveling to Alaska.
I have searched the internet and I can't find it in writing anywhere but…. I am pretty sure that Alaska Airlines is the only airline that serves Alaska from the lower 48 states. (If someone out there knows and would like to leave a comment to this post, it would be appreciated). Sometimes lack of competition isn't good for service but in this case, you can't go wrong. Since they are the only choice, let me tell you a little bit about them.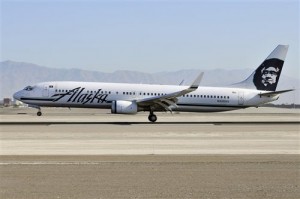 I really have to compliment Alaska Airlines on their service and commitment to taking care of their customers. They know how to cater to fishermen and they know how to handle the boxes of fish.
I have seen the check-in agents bend over backwards to help switch and arrange seating, connecting flights, etc, sometimes way above and beyond the call of duty. I have experienced first hand their know how when it comes to getting the fish packed up properly so that there will be no accidental spillage of frozen fillets. When the plane pushes back from the gate, the captain will always assure everyone over the intercom that "Yes, the fish are ALL on-board".
They are well known for and in fact, they advertise the fact that they are the #1 airline, for being on-time and on-schedule. This is very helpful to know when the belly of the plane is full of your frozen fish boxes.

It is nice to have an on-time airline so that they get home still frozen.
I have never flown an airline that I like as well as Alaska Airlines or that has taken better care of me and mine. They have always been right on top of things. This isn't intended to be a commercial for them, just my own experience. Your experience could vary (but I doubt it).
If you have downloaded and read my free ebook, you already know the BIG SECRET about Alaska Airlines. I won't give it away here, but I will say that it can save you hundreds of dollars with a half price ticket. Yes, I said half price ticket to Alaska. Get the free ebook and find out how. Do it now! Easy, free, and worth its weight in excellent tips to help you and even to save you money.
When booking a flight, you should always have bookings made with your lodge or guide first as quite often they will have certain time requirements for your flights in order to get you to and from their place on time. Many remote fishing areas require a connecting flight with a bush plane or a boat to get you in and out. It is easier to get it right the first time than to come back and change everything later.
Alaska Airlines even has a price guarantee that if you find the flight cheaper later on, they will refund you. See their website for details.
I won't quote baggage rules and prices as they change too frequently but I will say that the last time I went, they were charging $2 per pound for the extra boxes of fish. To me, it was way cheaper to bring any extra fish home than the $3+ dollars per pound that hamburger was selling for at home. Hmmm $2 for halibut or hmmm $3 for hamburger…….. It wasn't hard to make that decision. I brought 5 boxes at 50 lbs. each. And, I enjoyed every bite!