Fishing for Tsunami Debris in Alaska?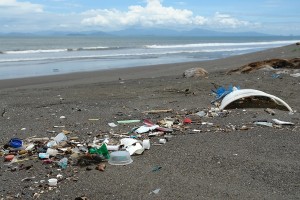 Over the past few years my interest in and fascination with Alaskan fishing has grown. I find that my attention is constantly caught by items in the news and on the internet that pertain not only to Alaskan fishing but also to Alaska in general.
I am interested in gold mining in Alaska. The glaciers interest and fascinate me. Whenever oil or petroleum in Alaska is mentioned, I always listen more closely to the news. My attention is also grasped by many of the scenic and nature related attractions of Alaska, some of which I have personally seen and many of which I have not yet experienced but someday hope to be able to see, experience and participate in.
I have experienced just a little bit of the beauty, grandeur, and of the vast natural resources (aka fish) 😉 that are to be found in Alaska and these things have touched me on a deeply personal level. While I will probably never leave my established home and life in the lower 48 to move and settle in Alaska, I have come to idolize what Alaska has to offer both to me and to other people. These are just a small part of the reasons for my website and blog. I love the parts of Alaska that I have experienced and have a great desire to help others to develop these same experiences and love for something so beautiful and bounteous and wild.
I should also state, for the record, that I am NOT an activist for any particular cause. Specifically, I am not against drilling for oil in Alaska or elsewhere. I am not against digging out the gold or other minerals that are found in Alaska or anywhere else. I am not against using any of the natural resources that our planet has. Etc., etc., etc. I believe that they were given to us to be used by us for our advantage and to provide the things that we need to survive and even to thrive during our time here on this Earth.
With that all said, I DO believe that we have a responsibility to do ALL that we can to protect and preserve these resources so that we don't extinguish them and their ability to perpetuate themselves. We DO have the responsibility to pass these things on to our kids in as good or a better state than we received them. When we do things that could have a permanent undesirable effect on our environment, we have the responsibility to put safeguards and protections in place that will ensure the survivability and sustainability of our resources for the future.
I have been watching in the news lately as reports have started to come in about the arrival of debris from the Earthquake and tsunami that happened in Japan in March of 2011. All of this "stuff" that was washed away during that terrible natural disaster has been adrift in the ocean for many months. Now, the ocean currents have carried it North and East to the Alaskan coastline, where it is starting to wash up on the beaches of this pristine wilderness. According to a recent article in The Bristol Bay Times (www.thebristolbaytimes.com/article/1220arriving_on_the_tide_tsunami_debris_sightings), this debris includes everything from soccer balls and plastic water bottles, to glass ball decorations and even a 125 foot long derelict fishing boat.
The Alaskan coastline and the Inside Passage of Alaska contain thousands of miles of beaches and coastline, some of which never sees a human being for years at a time, if ever. The very thing that makes Alaska beautiful is now an obstacle in managing this disaster.
I well remember the cleanness and beauty of the oceans and rivers of Alaska. One could stand there and well believe that mankind had never set foot in that place. One could catch a fish and well believe that this particular fish had never been targeted by human hands before.
I can't help wonder how this debris will affect the fish, wildlife, birds, and plants that call Alaska home. How long will it take for all of this plastic and man-made material to break down to its elemental beginnings?  What will happen when the birds and fish and animals eat this stuff?  Will it cause them harm? What about the possible effects of radioactivity on and among some of this floating garbage? What other poisonous compounds are in the bottles, cans, and barrels bobbing their way towards Alaska? The Huffington Post (http://www.huffingtonpost.com/2012/05/23/japan-tsunami-debris_n_1540581.html) quotes experts who speak of mass casualties already among the shorebirds who eat the washed up garbage.
What about the people who live there? How will their lives and livelihoods be affected by all of this. Most of them depend on the environment for life, whether it be for food, shelter, and sustenance, as in the case of the many native Alaskans who still live primitively, or whether it be the newcomers who work as fishermen, miners, or who make a living showing this wonderful place to the rest of us when we come visiting? How will these people cope with an estimated 1.6 million tons of garbage still believed to be heading their way?
I understand that this problem comes from an unforeseen natural event. I understand and sympathize with those who suffered and died in this catastrophic earthquake and tsunami. I just can't help but wonder what we, as a human race, can do to ensure that beauty remains on the Earth for our grand-kids to see and experience. What can each of us do in our little sphere to do our part in saving this heritage for the future generations?