Salmon Fishing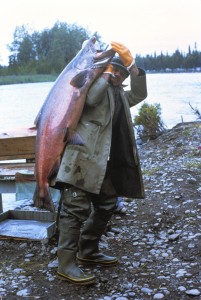 There are 5 main varieties of salmon found in the Alaskan waters. They are:
• King or Chinook Salmon
• Silver or Coho Salmon
• Sockeye or Red Salmon
• Pink or Humpy Salmon
• Chum or Dog Salmon
They may be fished in the ocean or in the rivers and streams. They are the most sought after fish in Alaska, providing food for the native Alaskans as well as bringing in as many as 450,000 fishermen from out-of-state each year, along with their money. Commercial fishing is a huge industry as well, providing thousands of jobs.
Salmon are great fighters and a lot of fun to catch, especially the Kings and the Silvers. In my opinion, pound for pound, there is no other fish alive that can equal the fight of a big Silver salmon.
The Kings with their large size are also a lot of fun to catch but are probably the most cagey and difficult to hook. The Sockeye is definitely the most sought after in terms of taste with its dark red meat and high oil content.