Denali National Park Visit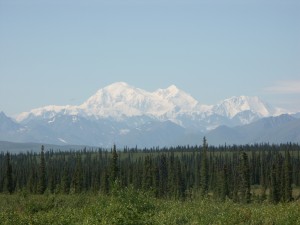 Another of the exciting, interesting and educational activities to add to your list of possible side trips during your fishing trip to Alaska is a visit to  Denali National Park. Denali Park is located in central Alaska in between Anchorage and Fairbanks and gets about 400,000 visitors per year. Denali is accessible by car, plane, or by the Alaskan railroad system.
Denali Park has about 6 million acres of wild country full of the wild terrain, beautiful views, and wild animals that Alaska is famous for. Of course, Denali National Park is home to Mount McKinley which is the highest peak in the US and in North America. Mount McKinley stands at a little over 20,000 feet in height. In the native language Denali means "the High One".
Some of the possibilities for things to do at Denali are backpacking, hiking, cycling, photography, camping, bus tours, plane tours or flightseeing, animal/bird viewing, and a myriad of other activities.
Denali is home to many if not most of Alaska's large mammals including 39 species ranging from grizzlies and wolves to caribou, moose, and Dall's sheep. Also to be found are more than 150 species of birds ranging from gulls and terns to ptarmigan. One species of critter that is scarce in Denali are fish as the rivers there are poor habitat for fish. The fish that are to be found within the park are more likely to be found along the far western border of the park where the rivers are deeper and slower. Probably not the place to wet a worm.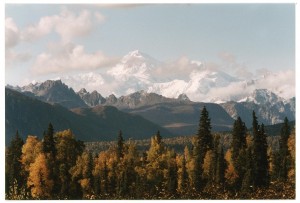 Denali has several teams of sled dogs that work the park on a regular basis, hauling rangers, scientists, researchers, and others along with their gear and equipment to places within the park. The dogs play a very important part of the operations of the park.
One very dramatic way to experience Denali is from the air with a "flightseeing" trip either from a plane or from a helicopter. From the air, one can cover a huge amount of territory from the mountain ranges to the flat planes and grasslands to the glaciers. One may view the wildlife, plant life, and possible even you may see other hikers and mountain climbers doing their thing. These flights are available in either the plane or the helicopter version. These flights even can land on the glaciers for a "hands-on" experience.
Denali also has several roads and trails that are open to cyclists. If you are into cycling, this may be the perfect opportunity for you to sightsee from the seat of a bicycle.
There are also bus tours that will cover large areas of the park. These tours come complete with a guide who can explain the natural scenes, wildlife, and other sights that are found along the way.
If you enjoy nature and all of the things that come with it, a trip to Denali National Park before your fishing trip may be just the thing that you are looking for. Check it out and see if it may be a fit for you. Use the link below for more information.
Denali National Park Information Page