Catch a Crab in Alaska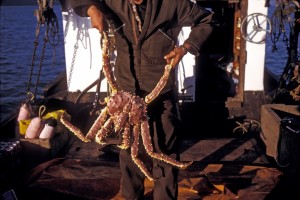 Many newbies to Alaskan fishing may not be aware that there are lodges, guides, and charters that cater to crabbing.
As far as I personally am concerned, crab is probably my favorite to eat of all of the sea creatures that are available in Alaska and as good as it tastes at home, it is even better freshly caught and cooked in Alaska.
Alaska is home to several varieties of crab. They are: Red King Crab, Blue King Crab, Golden King Crab, Tanners or Snow Crab, and Dungeness crab. All of these varieties are found in varying quantities and in varying locations within Alaska's waters. Most commonly found through all of Alaska's waters are the Dungeness crab.
Also varying are the regulations on crabs.  Be sure to check the regulations for the exact waters that you will be on. Basically, crab can be caught and kept at any time if they are for personal use but there are regulations on size and sex that must be followed carefully. Other than following the rules, the only license or permit needed is a normal regular Alaskan fishing license.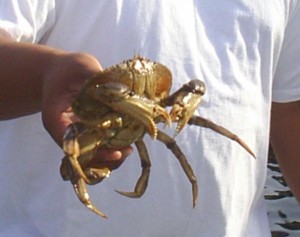 The following quote comes from the Alaska Dept. of Fish and Game website:
Dungeness crab are distributed throughout the waters of southeast Alaska and can be harvested non-commercially year around. Only male Dungeness crab measuring 6.5 inches may be harvested. Anyone with a valid Alaska sport-fishing license can harvest Dungeness crab. However, you should always check the fishing regulations when planning your vacation, as regulations and harvest limits may change.
Crab are caught by dropping a crab pot to the ocean floor. A crab pot is a large trap. They are normally about 3 ½ feet in diameter and 1 ½ feet tall. They are built from a metal frame and then covered with a steel mesh. They have a container in the center to hold the bait (usually fish carcasses or remains). There is an opening where the crabs can enter but not exit.
When the pots are dropped in the ocean, a rope is left attached to the pot and then is attached to a large floating buoy. This buoy will mark the spot of the trap and then the pot can be retrieved by pulling in the rope. Crab pots are left to "soak" for 1 – 2 days before pulling them in to check them and to remove the catch and re-bait.
After the catch, be sure that you eat some of the crab fresh. You will miss a real treat if you don't. After you eat a few fresh, the rest of them can be cleaned and flash frozen for you to transport back home with you in your fish boxes.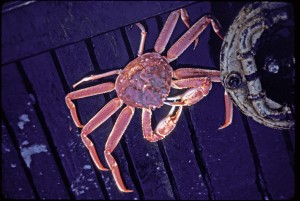 One caution that is given by the Alaska Dept. of Fish and Game and by public health officials is that paralytic shellfish poisoning (PSP) has been found in the internal organs of Dungeness crab. This is a toxin that is carried by the crabs inside of their organs. There is no problem as long as the organs are not eaten. Legs, claws, and body meat is OK.
The following links to crabs from the ADF&G will provide more information on catching crabs in Alaska. Look in the section called  INVERTEBRATES. There is a section for each species of crab found in Alaska.
http://www.adfg.alaska.gov/index.cfm?adfg=animals.listinvertebrates
Consider giving crabbing a try on your next Fishing Trip To Alaska.