Barbeque Halibut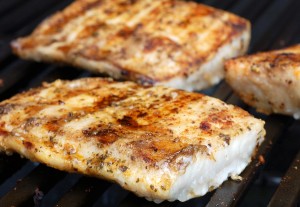 This is a great recipe and is among the favorites at our house.The soy sauce, brown sugar and the garlic caramelize on the fish making for a great taste that goes well with the halibut.
Prep Time: 10 minutes
Cook Time: 10 minutes
Serves: 2-4
Ingredients:
2 tablespoons butter
2 tablespoons brown sugar
2 cloves garlic, minced
1 tablespoon lemon juice
2 teaspoons soy sauce
1/2 teaspoon ground black pepper
2  halibut fillets
Place  butter, brown sugar, minced garlic, lemon juice, soy sauce, and pepper in a  small saucepan. Warm over medium heat, stirring occasionally, until sugar is completely dissolved. Dip fish in mixture and place on medium-temp grill or under broiler. Baste with remaining liquid while cooking. Cook 5 minutes on each side until fish flakes easily.
*We started using this recipe outdoors on the grill but now, just as often, it is done indoors under the broiler with the same great results. Give it a try!
Great eats,