Alaskan Steelhead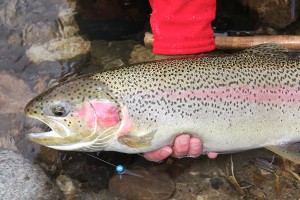 Alaska has a reputation for its salmon and halibut fishing but less well-known is the excellent trout and steelhead fishing that is to be found in Alaska. In fact, Alaska is a very popular destination for trout and steelhead fishermen who come from all over the world seeking the thrill of the fast-moving, hard-fighting trout and steelhead that are found in Alaska's waters.
Rainbow and Steelhead trout are considered to be the same species. In fact it appears that the only difference between the two is where they choose to make their home. The rainbows choose to be home-bodies and laze around in the freshwater lakes and streams of their birth while the steelhead are the more adventuresome and choose to go out and see the world by traveling out to the ocean for a part of their lives.
There are a few physical characteristics that seem to be different between the two varieties of trout. The steelhead develop a slightly different coloration and pattern that seems to become stronger the longer that they spend in the saltwater. In fact, it appears to be a result of environment more than genetics.  Some of their spots, bars and background coloring changes, perhaps to better camouflage them in their chosen oceanic environment. Steelhead will grow to be much larger than their rainbow counterparts almost entirely due to the better diet that they will find in the ocean.
The Alaskan steelhead is born in the clear freshwater streams and lakes. They will typically spend three years living and growing in those streams and lakes before traveling to the ocean. Once in the ocean they will live there another 2+ years before returning home to spawn. Steelhead aren't like Alaska's salmon that spawn and then die. Steelhead will spawn and then return to the ocean repeatedly, sometimes many, many times over the next few years of their lives.
Steelhead are grouped according to the time of year when they migrate back upstream to spawn. The groups are spring-run (March-June), summer-run (July), and fall-run (August-October). The majority of the steelhead are fall-run. Regardless of when they choose to return, they will all spawn the following spring.
Steelhead will live up to 10 or 11 years of age. They can grow up to 45 inches in length and 55 lbs in size. They are a prized catch for their fight and for the meat.
When fishing for steelhead fishing in rivers and streams, concentrate on deep holes surrounded by fast-moving currents as well as the swift whitewater areas. If using flies, steelhead prefer bright colorful flies. Also popular and effective are the spoons, spinners, and egg-like imitations.
Alaska, unlike other places, has a very sustainable steelhead fishery. Fish numbers seem to stay within normal patterns and cycles. As with other species in Alaska, regulations vary as to bag limits and size specifications. Be sure to check the current regulations for he particular region and water body that you plan to fish.
Current Alaskan fishing regulations can be found HERE.
For more information on Alaskan steelhead, check out this pdf from the Alaska Dept of Fish and Game.