Alaskan Fishing – Try It For Yourself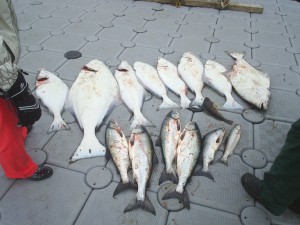 Have you ever dreamed of going fishing in Alaska? Have you ever wondered what it would be like to go and try it?
I once had that dream. As a teenager, I watched one of those travel channel sportsman's shows one day and the host and his guest were fishing the inside passage of Alaska. They caught fish and talked about the fish and their habitat and how to catch them. I sat and watched, enthralled with what I saw. I decided on that afternoon that someday I too, would go and give that a try some day.
Well, the years pass as they do and many years went by before the perfect opportunity came along. Then one day I got a phone call from a friend with whom I had discussed going fishing to Alaska. He invited me along on his next trip. I jumped at the chance.
We had a wonderful time. We caught fish every day until we were tired out from it. I remember sitting in the boat one day and we all reeled in our lines and sat for a while to eat our lunches because we were tired of reeling in halibut. We hadn't been able to leave our lines in the water for more than a couple of minutes without having to reel in a halibut and we just wanted a break. We lunched and rested and talked for 45 minutes or so to take a break before we went back to work reeling in fish. An hour or so later, I latched in to a monster halibut that totally wore me out with an hour's long fight. It weighed in at 168 lbs.
We spent our mornings on halibut but then the afternoons were spent trolling for salmon. The salmon fishing was also superb. We hooked up time after time with jumping, running, fighting salmon. Many times we had two or three on at a time. I even remember netting one guy's fish and then dipping the net a second time to get the other guys fish in the same net. What a hoot!
How about taking along your kids or your spouse? There is no better way to spend quality time with family members than fishing. There always seems to be time to talk and get to know each other in new ways. The conversation tends to be different (and usually better) when we are out of our everyday setting. I have had some wonderful opportunities to connect or reconnect with family members or close friends while fishing.
Does this kind of fishing trip sound like something you would want to try? I think that every fisherman owes it to himself to go and have the experience of fishing Alaska.