Alaskan Fishing, A Beginning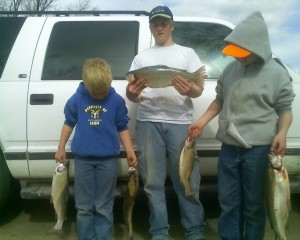 I just want to start off my first ever blog post by introducing myself a little bit and introducing my website.
I am an avid fisherman and hunter and have been for my whole life. For the most part, my fishing is confined to within a couple of hours of home. I am lucky enough to have lots of good fishing holes nearby. We have excellent fishing for trout,bass, perch, crappie, and bluegill, all with a couple of hours of home. We load up the kids and the boat and go 2-3 times a month through spring, summer and fall. In the winter we drag out the ice auger and punch holes in the ice.
A few years ago I had my first opportunity to try fishing in Alaska. It was the culmination of many years of wishing and hoping and dreaming of giving it a try. I spent 8 days there and loved every minute of it. We started at 5am everyday and quit at 11pm every night. After we caught our limits, we caught and released over and over and over. We just couldn't bring ourselves to quit and go sit in the lodge.
At the end of the week, the 4 of us amassed over 450 lbs of frozen fillets to bring home. More than that, I got hooked. What I had thought would be a once in a lifetime trip turned into an addiction. The morning after I came home, I started planning and saving for the next trip.
I have had such great experiences that I think that everyone should try it at least once. I waited a long time to try because I didn't know how to start. My goal with this website and blog is to give others the encouragement and the basics to go and give it a try.
Check back often. I will be adding info and tips as fast as I can find the time to do so.